Bath Salts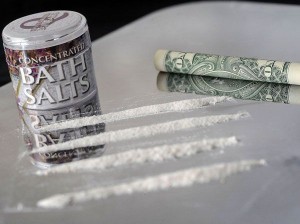 Synthetic drugs/stimulants are produced in illegitimate labs, and sold online or available at smoke shops. Promoted as "bath salts," "research chemicals," or "plant food," product labeling attempts to circumvent regulation by suggesting they are not for human consumption. Additionally, some forms of designer stimulants may be sold as "legal" MDMA (Legal X), or sold and veiled as MDMA tablets.
Young adults in the US and other countries have died from use of these products. Though bath salts appear to affect users like amphetamines and cocaine, reports and recent news tell tales of aggression, paranoia, suicide and suicidal tendencies, tachycardia (excessive heart rates), and erratic behavior.
Effective May 14, 2012, we expanded our Designer Stimulant Urine Test Panel to include 7 newer generation drugs, including Buphedrone, Flephedrone, Pentedrone, Pentylone, α-Pyrrolidinopentiophenone (α-PVP), 4-methylethcathinone, and Eutylone.
 Get a quote today
K2 / Spice
Synthetic cannabinoids compounds, found to be 4 to 100 times stronger than marijuana, are deceptively marketed as incense or herbal smoke products and sold under names like K2, K3 Legal, Spice, Syn, Haze, Cloud 9 to name a few.
Testing Features & Benefits
– Detect many illicitly synthesized drugs sold online and in head shops
– Choose from 2 test panels: Simple or Expanded panels (see other tabs)
– Quantitatively identifies active ingredients of many "legal high" products labeled as "bath salt" and "plant food," or sold as "Legal X"
– Accurately identifies JWH-018, JWH-073, JWH-081, JWH-250, AM-2201, RCS-4 and their metabolites (synthetic cannabinoids)
– Average window of detection is 72 hours following a single low dose; in case of chronic use the window is much longer
Bath Salt Panels
  Simple Panel   
MDPV
(Methylenedioxypyrovalerone, Cloud 9, Ivory Wave, White Lightning) 
 
Methylone
(3,4-methylenedioxy-N-methylcathinone, bk-MDMA, MDMC, "M1" 
 
Mephedrone
(4-methylmethcathinone [4-MMC], 4-methylephedrone, "Meph", "MCat" 
 
Expanded Panel – Detects 14 synthetic stimulants  
BZP
(Benzylpiperazine) 
 
mCPP
(meta-Chlorophenylpiperazine) 
 
Mephedrone
(4-methylmethcathinone [4-MMC], 4-methylephedrone, "Meph", "MCat"  
 
Butylone
(β-keto-N-methylbenzodioxolylpropylamine, bk-MBDB) 
 

MDA
(3,4-Methylenedioxyamphetamine, tenamfetamine)

 

Methcathinone
(α-methylamino-propiophenone, may be confused with mephedrone)

 

Cathinone
(Khat or Benzoylethanamine)

 

MDEA
(3,4-Methylenedioxy-N-ethylamphetamine, MDEA, MDE, "Eve")

 

Methylone
(3,4-methylenedioxy-N-methylcathinone, bk-MDMA, MDMC, "M1") 

 

Ethylone
(3,4-methylenedioxy-N-ethylcathinone, MDEC, bk-MDEA)

 

MBDB
(Methylbenzodioxolylbutanamine, Methyl-J, "Eden")

 

MDPV
(Methylenedioxypyrovalerone, Cloud 9, Ivory Wave, White Lightning) 

 

MDMA
(3,4-Methylenedioxymethamphetamine, ecstasy, "E", "X")

 

TFMPP
(3-Trifluoromethylphenylpiperazine, "Legal X")

 

Flephedrone
([RS]-1-[4-fluorophenyl]-2-methylaminopropan-1-one) 

 

Buphedrone
(2-[methylamino]-1-phenylbutan-1-one)

 

Eutylone
([±]-1-[1,3-benzodioxol-5-yl]-2-[ethylamino]butan-1-one)

 

4-Methylethcathinone
([RS]-2-ethylamino-1-[4-methylphenyl]propan-1-one, "4-MEC")

 

Pentedrone
([±]-1-phenyl-2-[methylamino]pentan-1-one)

 

Pentylone
([±]-1-[1,3-benzodioxol-5-yl]-2-[methylamino]pentan-1-one)

 

α-pyrrolidinopentiophenone
([RS]-1-phenyl-2-[1-pyrrolidinyl]-1-pentanone, PVP) 

 
K2 Spice Test
  Urine Synthetic Cannabinoids Test – Detects 6 drug compounds
JWH-018
(1-pentyl-1H-indol-3-yl)- 1-naphthalenyl-methanone) 
 
JWH-073
(1-butyl-1H-indol-3-yl)- 1-naphthalenyl-methanone) 
 
JWH-250 (NEW!)
(1-(1-pentyl-1H-indol-3-yl)-2-(2-methoxyphenyl)-ethanone) 
 
JWH-081 (NEW!)
(4-methoxy-1-naphthalenyl)(1-pentyl-1H-indol-3-yl)-methanone) 
 
AM-2201 (NEW!)
[1-(5-fluoropentyl)-1H-indol-3-yl]-1-naphathalenyl-methanone 
 
RCS-4 (NEW!)
(4-methoxyphenyl)(1-pentyl-1H-indol-3-yl) methanone  
 
More Info